InfinIt! Makes Digital Camera Discount Store Possible!
Digital-Photo-Web.com has been online for a few years and is gradually getting more traffic. To serve the readers who are looking for a new digital camera the InfinIt! addition from SBI comes at a great time. The store is made a part of the Digital-Photo-Web.com domain even though it is hosted at Bluehost. Integration on the look and feel proved relatively simple – I only had to make changes to three files – header.php, footer.php and styles.css.
i.Digital-Photo-Web.com is now live and can help you select the right digital camera and accessories for your needs.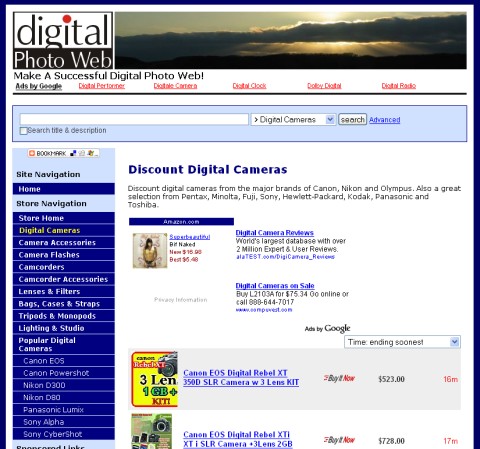 The Digital Camera Discount Store is the newest member of my series of BANS – Make Your Own Niche Store sites. You should be able to find all major camera brands and all the needed extras at great prices:
Photography is very popular on the web and here are a few articles you might like to check out:
Spring photography roundup
Revolutionary: Capturing the Moment
Get Way More from Your Canon Digital Camera with Open-Source Firmware
Canon PowerShot SD850 IS Digital Camera